Become a Member
Woodburn PTA Membership information.
Join Our Annual Donation Drive
Support Woodburn through our annual donation drive! If you are limited on time to volunteer with the PTA, a donation is a great way to support our students and teachers!
Volunteer
We could always use your help with the various events throughout the year! Use Sign-Up Genius to volunteer in little ways or big. It's your choice.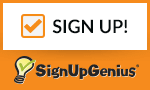 and more…